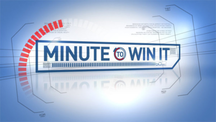 Welcome to Minute To Win It Wiki!
[
]
Minute to Win It Wiki is a site for any fan of Minute to Win It. Grab those ping pong balls, pedometers, and buckets, and get ready to play Minute to Win It!
Minute To Win It was originally created since 2003 by Derek Banner and his production company BUMP Productions - Banner Universal Motion Pictures LLC, with the original title Minute Winner - You got one minute to win it. The draft format of the game show was in November 2005 presented to the Swedish format company Friday TV, who further developed it in 2007 and licensed it to NBC in 2009. The show premiered on NBC on March 14, 2010.
Summer Activity Guide: https://media.kidology.org/pdf/M2WI_Game_Activity_Guide.pdf
Featured Article: July 2011
[
]
Blake DuPlant
[
]
Blake DuPlant was Minute To Win It's first $125,000 winner.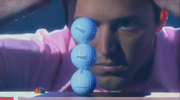 For more, see Blake DuPlant.