Welcome to Minute To Win It Wiki!
[
]
Minute to Win It Wiki is a site for any fan of Minute to Win It. Grab those ping pong balls, pedometers, and buckets, and get ready to play Minute to Win It!
Minute To Win It was originally created since 2003 by Derek Banner and his production company BUMP Productions - Banner Universal Motion Pictures LLC, with the original title Minute Winner - You got one minute to win it. The draft format of the game show was in November 2005 presented to the Swedish format company Friday TV, who further developed it in 2007 and licensed it to NBC in 2009. The show premiered on NBC on March 14, 2010.
LEGAL DISCLAIMER(NBC):
Thanks for visiting the official wiki of "Minute To Win It". Hundreds of challenges were tested for "Minute to Win It", many of which are posted here. Some of the challenges you see on this site may be physically challenging, so please talk to your doctor before trying them, and don't do any that you think may not be safe for you. If you do try them, please make sure you are in a controlled environment with proper safety measures in place. Anyone practicing or playing the challenges as shown on this site, or with modifications, does so at his/her own risk. Materials provided on this site are intended for educational and entertainment purposes only*
*Instructions and blueprint videos on this site are provided for practice and entertainment purposes only. Games played on the show are subject to rules provided to contestants and game levels may vary depending on quantities, distances or other considerations required for successful completion.
Summer Activity Guide: https://media.kidology.org/pdf/M2WI_Game_Activity_Guide.pdf
Holiday Activity Guide: Coming Soon!
Featured Article: July 2011
Blake DuPlant
[
]
Blake DuPlant was Minute To Win It's first $125,000 winner.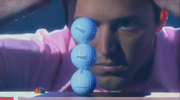 For more, see Blake DuPlant.