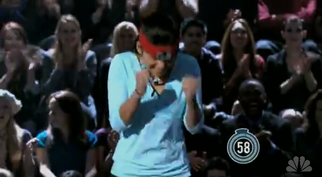 Blueprint Description:
[
]
A pedometer is designed to sense body motion and count footsteps while walking or running. In this challenge, however, it will be used to count head jerks. With a pedometer attached to their forehead, the contestant must accumulate one-hundred twenty-five clicks.
Game Description:
[
]
With a pedometer attached to the forehead, move the head around to record at least a certain number of "steps" in a minute.
History
[
]
Known in Australia as "Head Banger", this is a multi-level challenge, having been played at levels 1 and 2, whereas in level 1, the contestant only has one hundred clicks to accumulate and has a team version(level 1) where the contestants must each accumalate 100 clicks. In "Last Man Standing" competitions, the nine remaining contestants must accumulate as many clicks as possible in sixty seconds. This is an endurance challenge.
Set Up:
[
]
Attach the pedometer to the forehead. Before playing, make sure the counter is set to zero and wait for the clock to start before beginnning game. Reset pedometer to zero if a "step" occurs by accident before game starts.
Household Items:
[
]
Rules:
[
]
1. Prior to game start, contestant is standing with hands at sides and has a pedometer reading "zero" attached to a headband on their forehead.
2. Once game begins, contestant may begin bobbing head.
3. Contestant may not use hands to manipulate the pedometer.
4. If pedometer moves out of original position, contestant may readjust headband but may not continue game until hands are off the headband.
5. To complete the game, contestant must get 125 "steps" within the 60-second time limit.